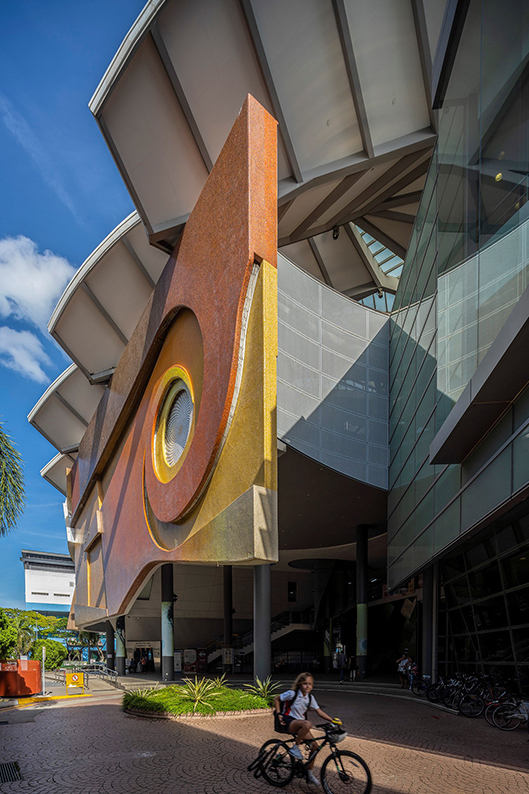 Singapore's largest piece of installation art set to disappear
Back in the late 1990s, one of our directors Kasan Goh, was working as a Project Architect in Singapore for William Lim Associates.
One of his projects was the Marine Parade Community Club building.
It was completed in 1999 and officially opened on 28 May 2000 by the then Prime Minister of Singapore, Goh Chok Tong. The complex contained a theatre and performing arts spaces, a gym and sports facilities, library and coffee shop.
Together with the Marine Parade Community Club building fund committee and the People's Association – a statutory body in Singapore that oversees neighbourhood, grassroots community and social organisations – we decided to hold a design competition for a mural, and then incorporate the winning design on to the facade to wrap around a large part of the building.
Thai artist Surachai Yeamsiri won the competition, and the result is Singapore's largest piece of installation art at 63m x 12m. Called the Texturefulness of Life, the mural complements the postmodern style of the building.
The Marine Parade Community Club building closed on 30 June 2022. It will reopen in 2025 after a major redevelopment, but these plans do not retain the mural – so Singapore's largest piece of installation art may well be lost.
It's sad that our more recent history, in the form of local cultural landmarks, appears to be given so little weight and gets lost in the rush toward progress. Change is of course inevitable. But a sense of place and history is an intrinsic part of our individual and shared identity.
In Singapore in the 1980s, the saving of Boat Quay from demolition highlighted the historic and cultural significance of everyday working people's experience and had as much validity as the more obvious grand gestures like City Hall.
But it is not just our everyday past that matters. What is new today will one day be part of someone else's history. If we fail to recognise and save reminders of objects and places which help mark the passing of time, one day we'll wake up to find that we've got rid of all the things that remind us of who we are and how we got here. A kind of cultural amnesia.
That's the importance of context and conservation in a nutshell. When it's gone, you never get it back.
---